Meet the BODY workers
Sebastian Pattavina
A lifetime health and fitness enthusiast, Sebastian completed his massage training at The Stillpoint Program in Greenfield, Massachusetts in 2000. He is a highly requested, intuitively driven therapist who blends eastern and western technique seamlessly and spiritually. He is also trained in Ashiatsu Oriental Bar Therapy and is a certified yoga instructor. Sebastian's massage is uniquely customized to address the specific and various needs of his clients. Book in advance, Sebastian consistently sells out!
LeeAnne Young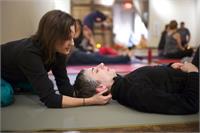 Leanne Young is a seasoned yoga instructor who has been practicing for nearly twenty years.  She developed a passion for yoga after moving to Boulder, Colorado in 1994. That very same year she attended the Guild for Structural Integration where she studied for two years the Ida P Rolf method of SI.  Her Rolfing Technique is insightful and deep. After practicing yoga in Boulder under Richard Freeman, Leanne embarked on her teacher trainings at the Yoga Workshop under the tutelage of Richard. Further inspired on the yogic path, she packed her bags and headed to Mysore to study under Richard's primary teacher, Sri Pattabhi Jois.
For the next 2 years in Mysore, India, Leanne worked as a SI bodyworker and studied Ashtanga yoga directly with both Pattabhi Jois and his grandson Sharath Jois. Leanne left India with a greater understanding of her crafts as well as a family in tow!   Please welcome Leanne to our community!
Beth Grier
Bio – coming soon